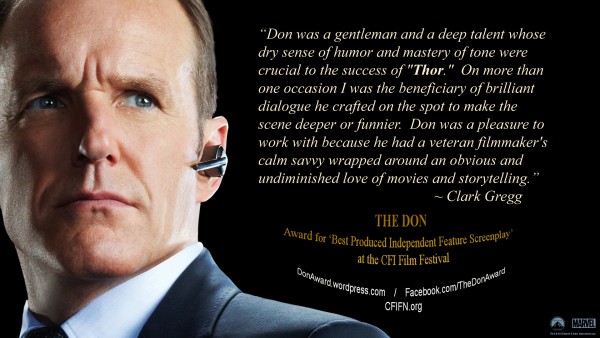 Introducing THE DON AWARD
In 2013, CFIFN introduced the Don Payne Screenwriting Award (aka THE DON) by honoring screenwriter and Wilmington native, Don Payne at the 2013 Wilmington Film Awards. Now open for submissions for 2014, this award will honor the best produced screenplay at the 2014 Wilmington Film Awards.  To qualify, writers must submit BOTH a copy of the screenplay and a copy of the finished film based on that screenplay. THE DON is currently only open to feature films. For more information and to submit your screenplay,  navigate to the 2014 FILM FESTIVAL page and click on the Without A Box submission link. THE DON is listed as its own category on our WAB Site. The deadlines are the same, but the entry fees are slightly different.
Screenplays will be read by a panel of 5  judges, including two of Don Payne's writing colleagues from the TV show : THE SIMPSONS;  Joel H. Cohen and Carolyn Omine.